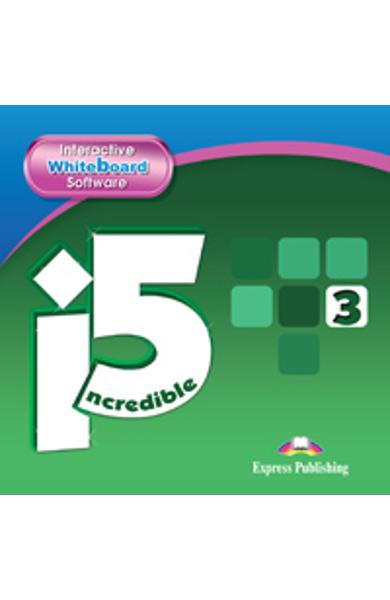 Curs limba engleza Incredible 5 3 Soft Educational 978-1-4715-1883-6
Produs indisponibil momentan. Pentru comenzi va rugam trimiteti mail la adresa bookshop@uniscan.ro sau contactati-ne la numarul de telefon 021/2245080, 021/2245026 Vedeti mai jos alte produse similare disponibile.

Cod produs: 978-1-4715-1883-6

Editura: Express Publishing

Producator:

Autor: Jenny Dooley,Virginia Evans

Nivel: Pre-Intermediate

Nivel CEF: B1

Disponibilitate: Indisponibil
Title: Incredible 5 3
Description: Interactive Whiteboard Software
ISBN: 978-1-4715-1883-6
Level: Pre-Intermediate CEF Level: B1
Authors: Jenny Dooley, Virginia Evans
Incredible 5 is a brand new three-level amazing course for learners of English at beginner to pre-intermediate level. This highly motivating series will fully engage students and put them at the heart of learning!
Key Features
Captivating dialogues that motivate and intrigue students.
All four language skills develped systematically in every lesson.
Inspiring texts and contextualised activities that promote values and active learning.
Catchy songs and chants.
Skills work sections enable students to think critically and use their creativity to master the art of writing.
Across Cultures & CLIL sections.
Go Green sections, promoting environmental awareness.
Myths & Legends: a fascinating section where learners are immersed in a world of fantasy & mystery.
Cartoon strips to promote reading for pleasure.