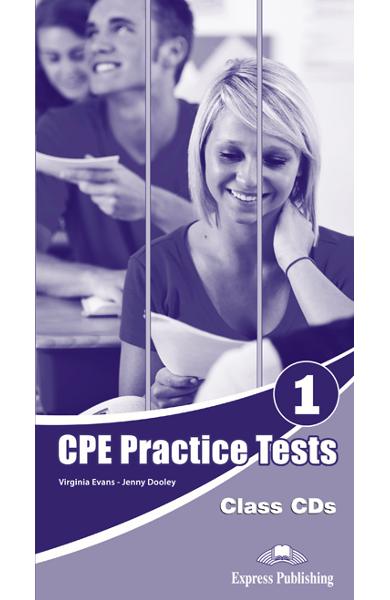 CURS LB. ENGLEZA EXAMEN CAMBRIDGE CPE PRACTICE TESTS 1 AUDIO CD (REVIZUIT 2013) 978-1-4715-0723-6
96 Lei

(TVA inclus)
Costul de livrare se calculeaza odata cu adaugarea produsului in cos si selectarea localitatii destinatie.

Cod produs: 978-1-4715-0723-6

Editura: Express Publishing

Producator:

Autor: Bob Obee, Virginia Evans

Nivel: Proficiency

Nivel CEF: C2

Disponibilitate: Produs in stoc
CPE Practice Tests1 este un set de 6 teste complete scrise
in formatul examenului Cambridge CPE conform specificatiilor din martie
2013. Concepute de autori cu experinta de examinator al examenului,
setul de teste ofera suport de pregatire pentru toate abilitatile
solicitate in fiecare din cele 4 sectiuni: Reading & Use of English,
Writing, Listening si Speaking.
Manualul elevului contine:
– 6 teste complete pentru CPE revizuit 2013;
– Introducere – ofera informatii cu privire la fiecare dintre cele 4 sectiuni;
– O gama larga de texte autentice extrase din surse conform specificatiilor CPE;
– Imagini color pentru fiecare partea a 4-a a fiecarui test;
Audio CD-ul contine:
– set de 6 CD-uri cu suport audio pentru sectiunea 3 – Listening, a fiecarui test;
Cheia contine:
– raspunsuri complete si sugestii de raspunsuri pentru toate sectiunile, inclusiv sectiunea 4 – Speaking;
– modele de raspusuri pentru intrebarile de la sectiunea 2 – Writing;
These books are aimed at learners of the English language at CEFR level C2 preparing for the Cambridge English: Proficiency (CPE) examination or any other examination at the same level of difficulty.
Key Features:
Six (6) full practice tests for the revised CPE examination.
Introductory section providing a comprehensive overview of each of the four papers.
Wide range of authentic texts drawn from a variety of sources in line with CPE specifications.
Thorough coverage of discrete language and skills focuses targeted in the examination across the six tests.
Full-colour visual prompts for each Paper 4.
Audio CDs containing all Paper 3 material in test simulation format.
Complete answers and suggested answers to all sections including Speaking Paper 4 (in the Key book).
Model answers to all Paper 2 writing questions (in the Key book).