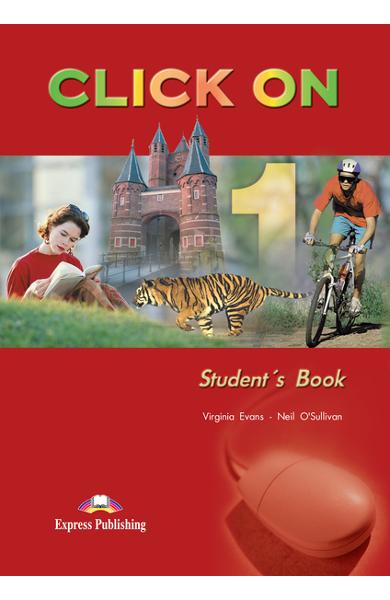 Curs limba engleză Click On 1 Manualul elevului 978-1-84216-682-6

Cod produs: 978-1-84216-682-6

Editura: Express Publishing

Nivel: Beginner

Nivel CEF: A1

Disponibilitate: Produs in stoc
Curs general pentru învăţarea limbii engleze, nivel gimnazial, clasa a V-a, este structurat
în 5 module, fiecare incluzând 2 unităţi de învăţare. Fiecare modul dezvoltă o anumită temă,
într-un mod atractiv prin intermediul ilustraţiei, a tematicii şi a modului de abordare a
acesteia. Manualul dezvoltă cele patru abilităţi: vorbire, citire, scriere, ascultare, prin
intermediul unor activităţi interactive, redarea unor dialoguri şi situaţii din viaţa reală,
texte din surse contemporane, însoţite de exerciţii ce încurajează lectura individuală,
secţiuni de pronunţie etc. Fiecare unitate se încheie cu o secţiune de cultură generală de
tipul "Ştiaţi că?" şi cu o activitate de scriere, iar fiecare modul se încheie cu o
secţiune de recapitulare şi autoevaluare. Interesul pentru învăţarea limbii engleze este
stârnit şi susţinut şi prin intermediul secţiunilor de cultură generală din universul
anglofon de la sfârşitul cursului. Sunt incluse 7 episoade ce conţin povestea animată a lui
Robin Hood, cântece, glume şi jocuri, precum şi secţiuni de teorie şi exemple din gramatica
limbii engleze, o listă de cuvinte noi şi o secţiune cu fotografii corespunzătoare fiecărei
unităţi a cărei rol este de a încuraja şi motiva în procesul de învăţare a limbii engleze.
Manualul este conceput conform principiilor Cadrului European de Referinţă, nivelul A1+, şi
se adresează atât elevilor de clasa a V-a, cât şi adulţilor, nivel începător.
Click On is a five-level course consisting of five modules each for learners of English from complete beginner to intermediate level. In full colour, the course combines active English language learning with a variety of lively topics presented in themed units. Its well-organised syllabus promotes the gradual development of all four language skills needed by learners to communicate effectively in English. The cross-cultural approach of the course stimulates learners'interest, focusing on topics carefully chosen to motivate.
Key Features
Five modules of two units each, per level (Click On Starter has got three modules)
Realistic, stimulating dialogues featuring people in everyday situations
Development of vocabulary skills through interactive tasks
Exploring grammar tasks with thorough practice of grammar structures
Clear presentation and thorough practice of the target language
A wide variety of listening tasks
Writing sections containing models and project work
A wide range of stimulating and interesting texts
Pronunciation sections, songs and games
Regular revision units
A story in episodes giving learners the chance to have fun while learning
Fully dramatised audio CDs
Fully animated DVDs
special section on British and American culture
Each level of Click On is accompanied by a DVD presenting the lives and experiences of people in the UK. A DVD Activity Book supports each DVD