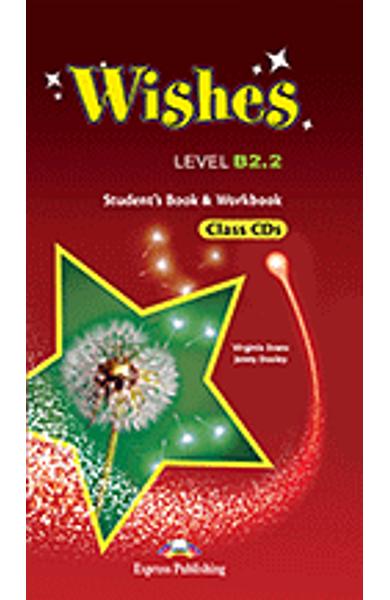 Curs limba engleza Wishes B2.2 audio CD la manualul si caietul elevului ( set de 9 CD-uri ) (revizuit 2015) 978-1-4715-2415-8
116 Lei

(TVA inclus)
Costul de livrare se calculeaza odata cu adaugarea produsului in cos si selectarea localitatii destinatie.

Cod produs: 978-1-4715-2415-8

Editura: Express Publishing

Autor: Virginia Evans, Jenny Dooley

Nivel: Upper Intermediate

Nivel CEF: B2

Disponibilitate: Produs in stoc
Dorește B2.2 este un curs de nivel secundar modular pentru elevii de limba engleză la nivel intermediar superior (CEF nivelul B2.2).
Cursul combină învățarea activă limba engleză cu o varietate de subiecte pline de viață prezentate în module tematice și pregătește pe studenți pentru examenul ESOL FCE, precum și alte examene la acest nivel.
Caracteristici cheie:
– Dezvoltarea sistematică a tuturor celor patru competențe lingvistice prin sarcini realiste care să încurajeze elevii.
– Exerciții lexicale, expresii, verbe idiomatic, expresii fixe, fraze prepozitionale și formarea cuvintelor, precum și anexele de verbe idiomatic și expresii prepoziționale.
– O varietate de texte de lectură din surse contemporane autentice, cu exerciții care încurajează elevii să citească pe scară largă.
Wishes Level B2.1 and Wishes Level B2.2 effectively combine language development and extensive training for all language skills. Wishes Level B2.1 and B2.2 are designed to meet the requirements of the Cambridge English: First (FCE) examinations as well as other exams at this level.
Key Features
Authentic texts, combining stimulating content and cross-cultural topics, followed by a variety of tasks designed to improve the learner's reading skills
Lexical exercises practising and activating all essential vocabulary including collocations, idioms and phrasal verbs
A variety of reading texts from authentic contemporary sources, with exercises which encourage learners to read extensively as well as intensively
Progress Check sections at the end of each module
Grammar sections covering all major grammatical areas
Grammar section with detailed theory and exercises
Further Practice section on lexical items and key- word transformations
Culture Clips, CLIL and Green Issues sections
Interactive Whiteboard Software and Interactive eBooks